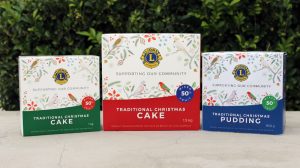 Epping Eastwood Lions Club members will be selling Lions Christmas Cakes, Puddings, mini cakes and homemade jams and preserves at West Ryde Shopping Centre in December.
Hours:  Sat and Sun   10 am to 4 pm  on 1st, 2nd, 8th, 9th, 15th December.
Order online for home delivery in the local area by visiting our Christmas cake page in our activities area.